Distributed Antenna Systems
(DAS)/W
i

-F

i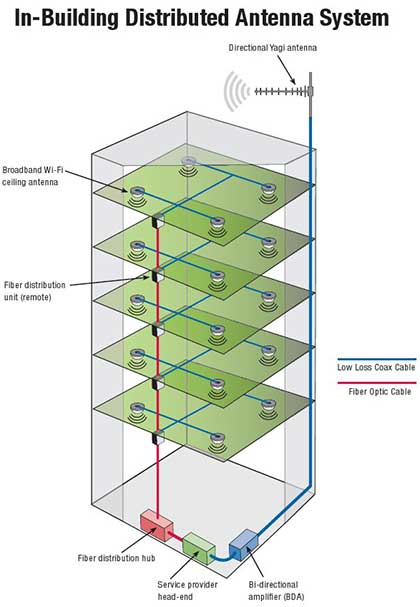 In today's fast paced environment, reliable connections for cellular and internet are critical to every business, campus, and public space. Employees and customers alike expect robust cellular and wireless internet signals. This is no longer a nice to have feature but one that is an absolute must for safety, productivity, and hospitality. US Communications has the experience and training to ensure wireless communications is designed and deployed seamlessly.
Distributed Antenna Systems (DAS)
A DAS or Distributed Antenna System is a network of small antennas situated in a building to amplify cellular and first responder signal in areas of poor coverage. The antennas are tied to a central controller which is connected to one or multiple wireless carrier's base station.
DAS systems can be deployed in an existing building, but owners can benefit from significant labor savings by designing infrastructure to support these systems during new construction.
The US Comm team can handle all your DAS needs including:
Consultation and System Design
RF Audit and Coverage Assessment
Complete System Installation
Turnkey Systems
Carrier Coordination
Engineering Drawings
---
W
i

-F

i

Wireless Networks, or Wi-Fi, has quickly become a staple in a building as well as in most public spaces. The ability to transmit data wirelessly has enabled technology to blossom connecting devices, people and machinery across a network. Wi-Fi enhances the way we communicate and share data, generating tremendous analytical abilities in a smart building environment.

As connection standards evolve and speeds improve, you need a company that can design and deploy wireless solutions that keeps pace with ever changing technology. US Comm has the team, the partners, and the ability that you can rely on for:
Site Survey
Wireless Heat Mapping
Engineering / Design
Access Point Layout
Installation
Testing & Optimization
US Communications partners with the industry leaders in the wireless space. We are Ekahau and iBWave certified and stay on top of the latest Wi-Fi, Cellular DAS and Public Safety DAS standards.
US Comm can handle your most challenging DAS and Wi-Fi projects so you can worry about achieving your own business goals.
Our Process
Consult
We work along side your team to understand your challenges and how we can help you put technology to work.
Design
Our team of industry experts develop solutions that help our customers realize their vision.
Install
Our team of professionals is certified and up to speed on the latest technologies and advancements.
Support
Once the job is complete we offer ongoing support through managed services so you can concentrate your business.