Internet of Things (I
o

T)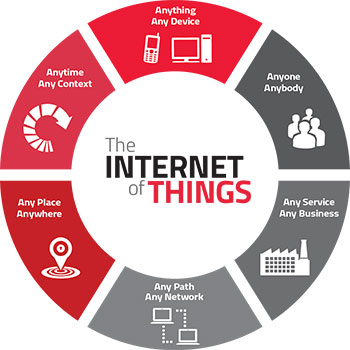 The internet of things, or IoT, in its simplest form is a system of interrelated devices connected to the Internet or to each other. This includes everything from cameras, industrial machinery and lighting sensors to heart monitors, cell phones and wearable devices. Anything that can be connected to the Internet will become a part of the IoT.
It is projected that there will be over 26 billion connected devices by 2020. This massive number of connected devices is changing the landscape for businesses and consumers alike connecting people and systems while also collecting and sharing valuable analytics.
Why Does This Matter to You?
IoT has or will touch every industry including Financial, Healthcare, Government, Manufacturing, Education and Retail.
The internet of things provides businesses and institutions with a real-time look into how their systems, their work environments, and their vital equipment are working. This includes logistics for inventory planning, machinery performance, operational efficiency, and space utilization.
The interconnected system can collect data, collate and transfer what has been learned, and analyze the data allowing you to take action. This interaction and intelligence can improve your work environment and reduce labor costs while also improving customer satisfaction.
Benefits of IoT?
The internet of things can fundamentally transform the way companies manage their day to day business. IoT can provide the following benefits:
Generate more revenue.
Improve your customers overall experience.
Enhance employee productivity.
Increase operational efficiency.
Save time and money.
Ability to access information anywhere, anytime, on any device.
How can US communications Help?
US Comm has been helping our customers implement technology for over 23 years. Along the way we have installed thousands of low voltage systems and have been a part of the migration to networked devices. We have the experience to help you prepare for the exciting opportunities IoT brings while also protecting your investment in critical infrastructure.
Contact US Communications to help you navigate your IoT journey!
Our Process
Consult
We work along side your team to understand your challenges and how we can help you put technology to work.
Design
Our team of industry experts develop solutions that help our customers realize their vision.
Install
Our team of professionals is certified and up to speed on the latest technologies and advancements.
Support
Once the job is complete we offer ongoing support through managed services so you can concentrate your business.